Not sure how to hit your fitness goals? Spending valuable time guessing what to do at the gym? Invest in personal training in ProFitness to safely and effectively see results. A knowledgeable and experienced personal trainer can customize a workout regimen to move you more quickly toward your goals. You'll receive support and accountability from your trainer as well as an unbeatable workout every time you show up for a personal training session. Complete the form below and one of our trainers will be in touch to kick start your fitness journey.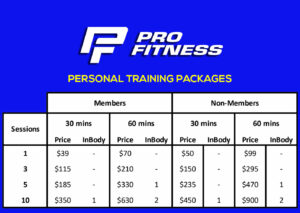 Awesome Trainer
Training with Jack has been a great experience.
He started with the body scan to see the composition of my body and then he designed a workout program specific for me to reach my fitness goals.
In the training sessions, he explains all the exercises in detail so I know what muscles are being used, how to correctly do the exercise and how to avoid injury.
He is very motivating and supportive without being pushy- which is a big plus for me.
He listens and adjusts as we go, and I appreciate his flexibility and positive nature.
Before Jack, I would feel so overwhelmed being in the gym that I would hardly ever go, and if I did go, would stay stuck on the treadmill. However, having Jack show me how to correctly do different exercises whether its on the machines, the weights, or freeform exercises, has really built my confidence at the gym. I am able to lift weights that I never even imagined I could, I have gotten so much stronger and I am amazed when I remember the first day I could hardly make it up the steps to head into the gym.
Jack has given me a blueprint to reach my goals and shown me that with discipline it is very much attainable.
I highly recommend Jack for anyone who needs a little (or a lot) of help in reaching their fitness goals.
Amazing trainer
personally enjoyed my training a lot, I learned a lot from exercises, positions to English lol, Jack knows what I'm talking about, my workouts were fantastic, my body changed completely, thanks to the inspiration he gave me, Jack is a very talented trainer, honestly he It's 200% amazing coach, thanks for everything Jack,looking for more
Great coach
I really enjoyed my training sessions with Jack, he's amazingly knowledgeable and a great instructor. I'm looking forward to more!
SIMPLY THE BEST!!!!
Jack, I appreciate your ability to decipher the numbers on that scale and turning this weight loss journey into an oddly exhilarating experience 😂. I eagerly anticipate my inbody scans for precise readings with the explanation and our workout sessions, knowing that you genuinely care about my well-being. When I first began, I was apprehensive, struggling with equipment usage and endurance for my workouts, but your continuous motivation, professionalism, empathy, and encouragement have been invaluable. You're truly a maestro in your field, and I couldn't have wished for a more exceptional trainer. Thank you!
Excellent results!
Jack is awesome as a trainer and fitness coach. Since arriving here on Grand Cayman over 20 years ago, he is the best trainer I have had. Motivates, sets realistic goals and follows your progress being committed to encouraging the individuals' goals. In addition, Jack has a great sense of humor and really explains well.
The program I am on has been very successful for me and I feel like a new person with lots more energy and importantly feeling good about myself!
—