What is the InBody Test?
What does your weight really represent? When you step on a scale, you can't see how much muscle or fat you have. All you see is how heavy you weigh.
Go beyond the scale with the InBody Test, a non-invasive body composition analysis that provides a detailed breakdown of your weight in terms of muscle, fat, and water on an InBody Result Sheet. An InBody Test can take anywhere from 15-120 seconds, depending on the model used.
No more pinching. No more dunking. Get results you can trust so you can reach your health and fitness goals with precision and actionable objectives.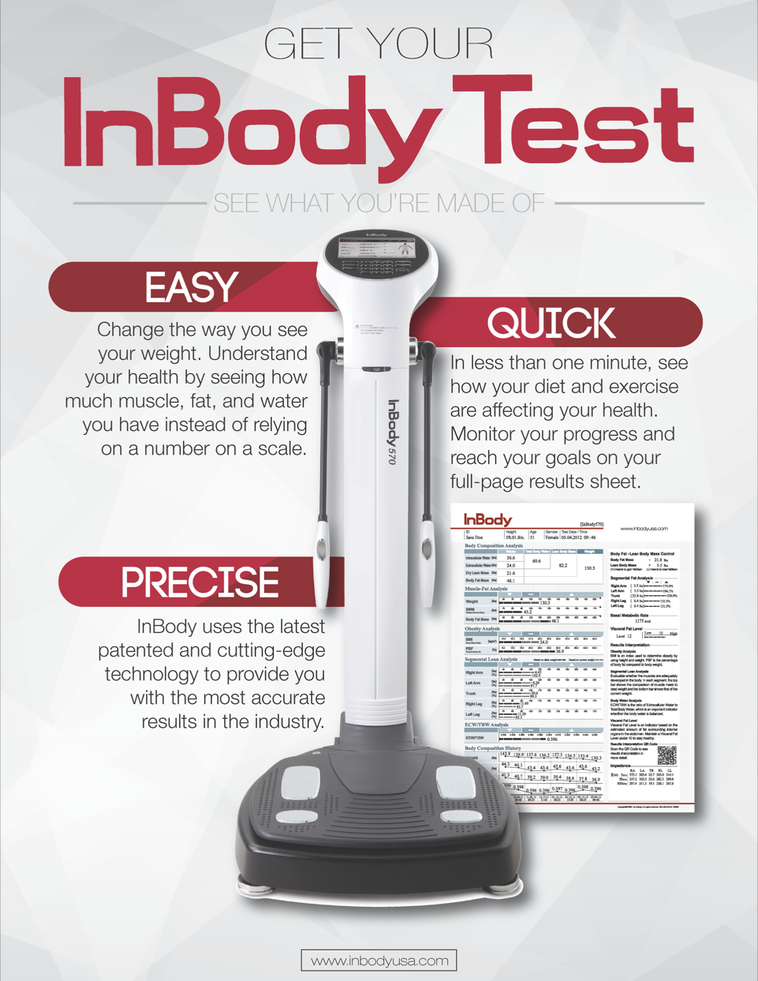 Reviews
Critical
The body scan was an excellent opportunity for me to focus on what really matters and learn practical ways to be consistent. Jacks demeanor and professionalism was a plus.
10/10 recommend
My InBody scan experience with Jack was exceptional in keeping me on track. Jack's profound knowledge and informative approach were truly remarkable. He guided me through the process, explaining each step's importance in helping me stay on my fitness journey. His insights into my body composition were invaluable to maintain progress. Jack's expertise and friendly demeanor made the experience both educational and motivating. I highly recommend his services – a top-notch professional dedicated to helping you stay on track!
Informative and Precise
I love the way Jack explained each of the results. He really knows what he is doing! The process was easy and it helps me to understand what to eat to gain the desire results. The test was very informative and precise, It was an excellent!
Necessary!
I believe what gets measured gets managed. Having the information to guide you through your journey removes the guesswork and increases your chances of success. It's a no brainer imo. Jack is awesome and well versed.
i would recommend this to everyone who is looking to improve their physique.
In Body Scan
The InBody scan was very useful to my present fitness goal. Jack was great, he gave me a detailed breakdown of my present body composition and the steps I needed to take in order to achieve my fitness goals. He was also very knowledgeable about the information he gave me, especially in answering any questions or concerns I had.
Detailed Health Info & Insights delivered with Expertise
Jack was very detailed, very helpful and extremely knowledgeable. It was an excellent experience and I would recommend it to anyone who is serious about their health and getting in shape!
Great In-Depth Review
It was great having the scan done with Jack. He was extremely knowledgeable about the results and took the time to walk through what each element meant. Definitely didn't feel rushed and he was ready to answer all my varied questions. Will be great to integrate the scan into my fitness routine so that I can see the trend as I progress.
A GREAT Machine!!!!!!
The Body scan Machine at Pro Fitness is a fantastic facility/service that is offered. It really gives you the details you need to improve your fitness level. Combined with Jacks excellent knowledge in this field and his detailed reviews of your body scan results…it's definitely worth doing. Once you get started, you will want to continue for regular checks to monitor success at reaching your fitness goals! A MUST TRY!!!!!!
Amazing experiance, i was a skeptic with these scans, but no more,
I was surprised with the level of details the scan revealed and Jack's overall knowledge in explaining the various items on the report. I'm a skeptic sometimes with these scales/scans that claim to test these various metrics, but the results and explanations were spot on with what I have been observing from my own personal logging using Fitbit gear and training. I now have confirmed science with what I need to get me to the next level and a verified way of tracking my progress.
Informative, well-structured, great value for money
I found the session very informative, well-structured and detailed. Everything was explained clearly. Gave me insight into my health that I've never had before and made my health fitness goals feel realistic as it gave me specific areas to focus on in the coming weeks. I learned a lot about how diet and exercise impact the body and how I can make changes to my current routines/habits. It exceeded my expectations and I feel like you get your bang for your buck.
More than just Stats and Figures
I will say that the InBody Scan was more than what I expected for sure! I easily learned about my current body composition along with the proper means to not only achieve my body goals but my health, fitness, and nutrition targets as well. Thanks to Jack, I am much more aware of what I need to do going forward. Exciting stuff!
Very Helpful
The in-body scan is helpful, it aids with my fitness journey knowing where my body is at currently, to where I'll like it to be. Jack explanations were great and look forward to my next scan.
Amazingly Informative
Doing the body scan was so easy yet so informative. It definitely gave me insight on what areas I need to work on and Jack made the education process so seamless. Amazing experience and I would definitely recommend to anyone interested!
Great Resource - Healthy Me 2022
As I start my fitness journey, I found this information most useful.
It allows me to have all the information to get me on track; with my food intake, weight control, body mass, how to train my body to get optimum results.
With my numbers and dietary guide I can set a realistic schedule to reach my fitness goals. I can't wait to start with personal training so I can make this a lifestyle change.
Jack was awesome, most informative, made me feel comfortable with my numbers.
Highly recommend everyone who is starting or want to know how they are doing to take the Inbody Scan.
I left feeling optismistic that this is something I will stick with.
Healthy me 2022 – my year of taking care of my body, my temple.
Perfect for Tracking Progress
I found the ImBody scan very interesting and I think it is going to be a very useful tool to track progress. It was especially helpful to learn upfront what my aims should be of loosing fat and gaining muscle and the exact number of lbs of each.
It was also interesting to discover that I was not working out efficiently for what I am trying to achieve. That alone has saved me time and frustration and to have a plan made around my goals and specific to my body is going to improve my chances of success.
It is a lot of information so ask lots of questions but I found Jack very knowledgeable, and able to explain everything in enough detail.
Thorough Explanation
The InBody scan was very useful as I learned more about my body that I didn't know about and everything was explained very thoroughly and it was easy to understand.
Great Service
I have no complaints about the InBody scan, it was very informative and let me know exactly where my body is at and which areas I need to work on. Perfect explanations and I have no concerns on the service received. I look forward to seeing my progress next month!
Deeply Informative
The experience was deeply informative, where I thought I was compared to where I actually am differed a lot for some things.
Jack explained it perfectly, I'll keep in mind if there's any improvements to recommend, I have none at the moment.
More than I expected
Thank you for conducting my InBody scan; it was certainly more than I expected. The scan was so detailed that I now know the direction to move forward with my fitness goals. Though the form seemed complicated at the time, my consultant explained all the sections in detail so that I could understand. I'm now eager to work with the team on this new health journey. Thank you So Much Jack. !!!
Clearly Breaks Everything Down
The InBody was very useful as a starting point, it breaks everything down so I'm able to focus more clearly on my goals. It was explained very well and in great detail. Only thing I would suggest is bring a snack or protein shake for after the scan. That way you can fuel up while you go over the results with Jack.
Very Detailed
I have enjoyed doing the scans with Jack so far. You really break down what each measurement means, which allows me to think back to what I have done in the past, how I got to where I am now, and what I can do in the future to attain my goals. It's also really helpful that you follow the scan with suggestions of targeted exercises so I can easily see my path to improvement.
I hope that feedback helps, and see you soon!
Amazing!
The InBody scan is an amazing piece of equipment. The scan was quick and simple. The detailed report that was generated from the scan was thoroughly explained by Jack and as a result, I now have a clearer picture of my body composition and the steps I need to take to help me achieve the results that I am looking for.
Best on Island!
The InBody scan was very useful to me as it showed me real-time results with my training sessions with you. Jack is clearly very knowledgeable and passionate which makes seeing results very easy. You've provided me with enough detail to understand the direction of my progress in relation to where I want to be! I've done the scan at other places but this was by far the best I've done.
Really Interesting
Thanks very much for this Jack – you presented the information in a clear and comprehensible way and it was really interesting to see the results of the body scan.
I will take on board the need to up my protein and resistance training and try to improve in both areas. Its a great resource and im happy to promote it.
I really appreciate the input and definitely will try and get some more resistance training in at the gym which you also explained really well
Thanks Jack and see you at the gym soon!
Everyone should try this
My experience with the InBody scan was very nice it really made me understand what is going on with my body weight, it was also a very easy and stress less process. Talking with Jack also helped me to know what workouts are good for me and what will help me to achieve my ultimate weight loss goal and gave me a better understanding on how many calories to consume for the day. I do believe that anyone who is curious about using the InBody Scan should really give it a try because it's worth it.
I can easily track my Progress
I find the body scan very useful as aside from weight it gives me the info I need to know whether I am making progress. Jack's explanation makes sense even to one like me that is not 'into' these kind of things!
Very detailed information of my overall physique
The Inbody scan provided great insight into my current overall physique and provided information/statistics that are much more useful/informative than BMI and weight such as SMM, Body fat mass, and PBF. The feedback from Jack on nutrition/exercise was even more helpful because now I have realistic targets and aims to help me safely and efficiently progress and motivate me on my fitness journey.
Very Well Explained!
My experience with the InBody scan was quick, easy, and very well explained! Any questions I had were answered before I even knew what to ask. The test was done in seconds and provided me with detailed data that was broken down and thoroughly described by Jack. My personal data was then converted into a super easy to read document that outlined a workout and diet plan unique to me. Overall, I had a great experience!
Best experience so far!
Thank you. You have been great so far. I like the in depth details that the InBody scan gives because it helps to inform what we can do to meet my target. It also keeps me motivated because I can see I've lost fat and gained muscle even though I haven't lost weight to speak of. At least I feel like my effort was not in vain. Jack has been very patient, kind, encouraging, and very knowledgeable. You keep me motivated and somehow make it easier for me to push my limits. Best experience I have had thus far. I really feel that I can do it this time with you and the information that the InBody scan gives. Thank you again for everything!
Very Insightful
The process today was very insightful and gave me a lot more education on aspects I can improve on. Definitely recommend it to anyone wanting to have a goal when hitting the gym so they can properly get results. Aside from that, I've sent my dietitian the PDF so he and I can talk over things.
Great Experience
It was a great experience. I was a bit tired from not sleeping well the previous 2 nights but Jack was very thorough with your explanation and provided
Great feedback and insight on the inbody scan. Seeing that there is a plan in place offers hope and optimism for positive change. Adding personalized structure to my workout routine and eating habits gives me the best chance of success.
I can't think of anything more that you could have done to provide a better experience.
Extremely useful!
I found the inbody scan and the information in which you provided extremely useful. The way in which you explained it to me was in depth and full of detail. The addition of the app and the recommendations in which you provided were all useful and helpful in numerous ways.
Great first session and looking forward to more!!!
Keeps me Focused
The InBody Scan and accompanying information is going to be a great starting point for my fitness journey and will help hold me accountable for the next few months.
I am looking forward to seeing the changes in the numbers and in myself!
Gives me something to work towards
Thank you so much for the session this morning and the InBody scan which I found amazing, it's provide so much detailed information of body composition in a way that anybody will understand, it will be useful in my quest to lose some pounds!
Many thanks for your patience and for helping me to navigate the exercise machines and advise on the best exercises for me to reach my goal. I am very happy that with Jack's help, and got the scale to move from a permanent high digit to a lower one, and apparently keeps moving down! After a few weeks of exercises and a low calories diet, I was so much looking forward to have the scan and check my improvements, it was so nice to see that the numbers have changed to a more positive position, and I really found the inbody scan fantastic that I can find out what is going on inside myself!
I have to tell you too, that I learned a lot from you. Now I pay much more attention to my nutrition, and for sure, it is now much more balanced, thanks! Funny that I have read a lot about this, but when you see the numbers and graphics with the scan, you really understand that nutrition and exercise hangs together!
Great insight into my health
I appreciated the InBody scan, it provided greater awareness towards fitness and wellness.
5000 Stars!!!!
This is not your ordinary scale !
I just completed my first InBody scan and consultation with Jack and If I could give 5000 stars I would! The InBody analysis goes through your body composition in such detail that it's definitely a must try for anyone seriously considering exercising.
Jack goes through the results in such detail and creates spread sheet personalised to you on the recommend steps he suggest you take to reach your fitness goals , including how long he expects it to take.
I know where to focus now
I was quite happy with the InBody scan. It provided insight as to where improvement could be made, I know now what I need to focus on.
Jack explained everything perfectly well.
Useful
As it relates to the body scan it's very useful and Jack explains things pretty well, giving me a good understanding of what I need to do. What I find most useful is the ability to track the improvements, because they aren't always visible to the naked eye.